It's been a few weeks since I've written one of these.
In that time, the Ravens manhandled the Bengals, almost dropped one against the Eagles, and had their bye week.
Then, the inevitable happened. Steelers week was upon us, and Ravens fans all but guaranteed a victory based on history and arrogance.
As it turns out, Thanos looks a lot like Big Ben if you squint, and like Thanos, Big Ben claimed victory in his first meeting with the Ravengers.
In this article, we're going to look at why it happened. Who was the Star Lord in this scenario? (Editor's Note: For the non-Marvel fans, that's the guy that made the first snap possible. The snap wiped out exactly half.. you know what? Just go watch the movies.) Who was the Loki? The Thor?
Let's dig in.
The Right.
There's more good to be found than you would think. The offense finally got players other than Mark Andrews and Marquise Brown involved (more on Brown in a bit). Willie Snead had his best game as a Raven, breaking 100 yards and making critical catches. Miles Boykin played a small role, but averaged 10YPC and a score. We're still waiting for him to come into his own, but it seems like the signing of Dez Bryant to the practice squad may have awakened a spark in him.
JK Dobbins had a breakout game with Mark Ingram out, racking up 113 yards on the ground, and averaging 7.5YPC. He and Gus Edwards (16-for-87) make a gnarly one-two punch if Ingram is out against the Colts as well.
Those mentioned are the main reason that the Ravens were able to out-produce the Steelers on the ground and through the air, and it provides a glimmer of hope that shouldn't be looked past by fans.
The story of the day was the defense. After the Steelers had their way with the Titans on third down last week, the Ravens stifled attempt after attempt. They held Ben Roethlisberger to under 200 yards of passing, and his 65% completion percentage doesn't tell the story about how difficult they made his life on Sunday.
Jaylon Ferguson stepped up when asked to replace Matthew Judon (ejected), with two tackles for loss, two QB hits, and a sack. He also created pressures on five pass rush attempts, all while only playing 21 defensive snaps.
Yannick Ngakoue didn't fill up the stat sheet in his Ravens debut, but he helped by taking on blocks and opening up the path of least resistance for other defenders to wreak havoc.
Let's talk about Matthew Judon for a moment. He got ejected from the game after joining in on a sideline scuffle, attempting to pull his arm free from restraint, and accidentally made contact with an official. The official then sold it with an absurdity that would've made Vince McMahon proud. You'd be hard-pressed to find somebody that thinks it was intentional contact, but by the rules, officials can use their judgement. Is he responsible for some bone-headed penalties over the years? Yes. Was this one of them? Not necessarily.
The short version of the story is, the defense did their jobs. They forced turnovers, had mostly great coverage, and the pass rush created pressure while sacking Roethlisberger twice. Against one of the more difficult offenses to defend, they put on a good showing, staking their claim as one of the best defenses in the NFL.
If you want to be mad about something, it isn't the defense. Let's take a look at what you should be upset about.
The Wrong.
Losing a starting offensive lineman is never optimal. Losing two starting offensive linemen against a sack-leading defense is terrible. Compound that with the news that the Ravens lost All-Pro, newly extended left tackle Ronnie Stanley for the season, and hearts broke all over Ravens Twitter. Our thoughts and prayers go out to the Guru for a speedy recovery – both for himself and because..
Now let's talk about what the team could've controlled. We'll begin with Greg Roman. Can somebody tell him that his creativity is.. not that creative? Could somebody tell him that empty sets should only be used at certain times, and that it's okay to keep running the ball on 3rd-and-short? That it's okay to scheme guys open even if they aren't Lamar Jackson's favorite target?
Speaking of Lamar's favorite target. Marquise Brown got targeted twice in Sunday's game, after being targeted at least six times in each of the previous six games. Although one was for a score, he took to Twitter after the game to complain about it.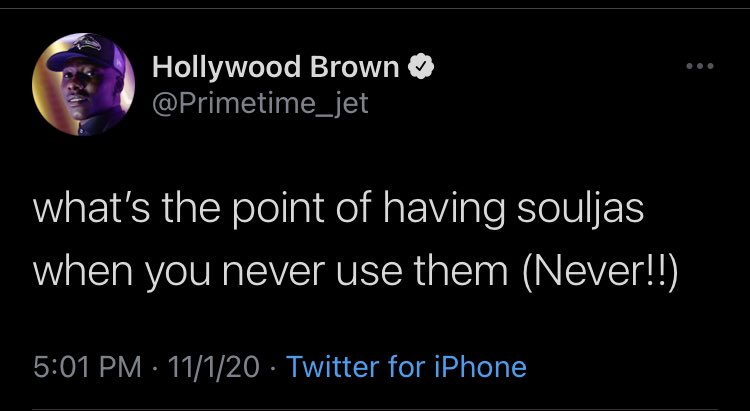 He then deleted the tweet (after being called by Chad Steele, I assume), but not before it set Ravens Twitter ablaze.
I'm never a fan of a player complaining publicly, and while I understand the frustration of Brown (and why it's shared by Ravens fans) after being targeted between six and ten times in the previous six weeks, maybe you don't take to social media to complain the first time you only get two targets. That's not what we wanted you to learn from your cousin (Antonio Brown).
For what it's worth, Marquise Brown's average depth of separation in Sunday's game was 1.1 yards per route run. If you want the ball, get open.
Speaking of being open. After watching the final play of the game approximately 4,367 times, it appears that Miles Boykin was open in the endzone on the final play.
After further review, while DB31 didn't leave him completely open at the snap, he was already breaking coverage before the ball left Jackson's hands, giving Boykin a better chance to catch the ball than Snead – who had two defenders within three yards. Simply put, Jackson made the wrong read, choosing to throw towards Minkah Fitzpatrick instead of.. *checks notes* Justin Layne.
Speaking of defensive backs. While coverage was (for the most part) very good, the defensive backs didn't make many plays on the ball, and seemed to struggle with the spread offense that the Steelers deployed in the second half. Now, to be fair, a lot of that was on Terrell Bonds. I'm aware that it's his second NFL game, but you absolutely have to do your job when called upon. I've said that about multiple defensive backs, and I'll continue to say it when it's necessary.
Bonds didn't do his job. In fact, at one point he ran away from his job, after Eric Ebron caught a short pass, and Jimmy Smith had to clean up the tackle. He was understandably picked on by Roethlisberger, and I'd expect more of the same in the future, if he's on the field.
It's time to bring in Desmond King.
Finally, we have arrived to the worst of the worst. Let's take a look at the reason that the Ravens lost this game.. reigning league MVP Lamar Jackson.
The WTF.
"The turnovers I feel are the reason we lost the game. I put that on me." Well good, because everybody else should be putting it on you as well. Lamar had what was objectively the worst game of his young career, surpassing his previous worst, which happened to come against the Steelers in 2019.
Jackson completed less than 50% of his passes, threw two interceptions (nearly four) and fumbled three times, losing two of them. The fact that the Ravens were in this game until the end, with that kind of performance, says so much about their defense and ability to overcome deficiencies. But, it doesn't take away from the fact that in a big game once again, Lamar hasn't gotten it done.
He was off-target on throws more than once, and even if you take the throwaways and penalty-enforced incompletions out of the equation, he completed less than 60% of his passes and turned the ball over four times.
It's become a bit of a theme in certain kinds of games. Games where the pressure is extremely high. Weeks where the media and fans are calling it the 'Game of the Week'. The explanation seems easy. After his phenomenal Week 1 showing in 2019, he started his media appearance by saying 'not bad for a running back' which shows that he does hear what's being said. What's even worse, he listens to it.
Listening to things like that creates a stigma in your mind, and it affects your play. If you're continually listening to people say that you can't get it done, you're going to overthink and micromanage your entire game, which will cause you to not get it done.
In the future, he has to shut that stuff out. You can't listen to the noise in high-pressure situations. If he can't do that, then this is going to be a startlingly dark blemish on an otherwise fruitful career.
This game is on him. You can place blame on Greg Roman, but even with the gameplan, the Ravens were in it. If those four turnovers don't happen, the Ravens win this game. If only two turnovers happen, the Ravens win this game. It's that simple.
But wait, there's more! Nine penalties for 110 yards is absolutely absurd. While I agree that three of them were extremely ticky-tack calls, that still leaves six penalties unaccounted for. Coming off of a bye makes this kind of play unacceptable – although you never want to see your team making boneheaded penalties. That's Judon's area of expertise.
In Closing:
The season is not over, no matter what Ravens Twitter may be saying. The Ravens are 5-2, and with this loss, dropped from second place in the AFC North to.. second place in the AFC North. Will they win the North? Maybe not. But a two-game deficit is not impossible to overcome, and they're a bonafide playoff team. They may even win in the postseason, assuming they get some help at tackle and corner.
Take heart, Ravens fans. All is not lost. I hate losing to the Steelers as much as the next Ravens fan, but I hate the stupid mistakes and undisciplined play more than that.