At the time of this writing, we are officially just one week away from the opening game of the Baltimore Ravens' 2020 season. The 53-man roster has been set. The expectations have never been higher.
Despite one of the weirdest off-seasons in NFL history, the Ravens sit ready to run (literally – just look at that backfield) through the league, on the way to Lamar Jackson's first playoff win, and a third Super Bowl ring.
But how will they get there? In this article, we'll take a look at their entire schedule and try to predict wins and losses through all 17 weeks. We will assume full health for every team, as predicting injuries is just bad karma.
Let's get into it!
Week 1: Cleveland Browns
The highlight of the 2019 Browns season was the drubbing they gave the Ravens the first time they met up. Baltimore limped away from a 40-25 blowout that wasn't as close (ha!) as the score suggests. While it was the last game that Baltimore would lose in the regular season, it gave Browns fans bragging rights, and a false sense of bravado.
Expect the Ravens to come out swinging in Week 1, and win their first divisional battle without much exertion.
Record: 1-0
I'd expect the Texans to be a bit demoralized after the loss that I assume they get handed by Kansas City in the season opener, but they'll have more time to recover than the Ravens will.
Still, they traded away one of the best wide receivers in the league, and they're relying on an underrated-but-oft-injured Brandin Cooks, a boom-or-bust (and oft-injured) Will Fuller, and Kenny Stills to outplay the trio of Marlon Humphrey, Marcus Peters, and Tavon Young.
Still, Deshaun Watson is tricky at times, so this one could potentially be closer than it should be.
Baltimore is still going to come out on top, though. Make no mistake about that. After the trouncing they gave them in 2019, there's not much fear here.
Record: 2-0
Week 3: Kansas City Chiefs
The week after the Ravens make the Texans an 0-2 team, they meet up with the team that handed Houston their first loss.
Lamar Jackson's Ravens are 0-2 against Patrick Mahomes and the electric Chiefs, and there seems to be a stigma growing about them amongst the Ravens Flock – not to mention the new-age rivalry growing between the fans of the two teams.
Well, honestly, the rivalry is really just Chiefs fans showing up any time Jackson is mentioned to spout off about Mahomes..
Anyway. This will be the first fun game on the schedule, and as much as I'd like to be a homer, I think the Chiefs move to 3-0 against Jackson in a close one.
Record: 2-1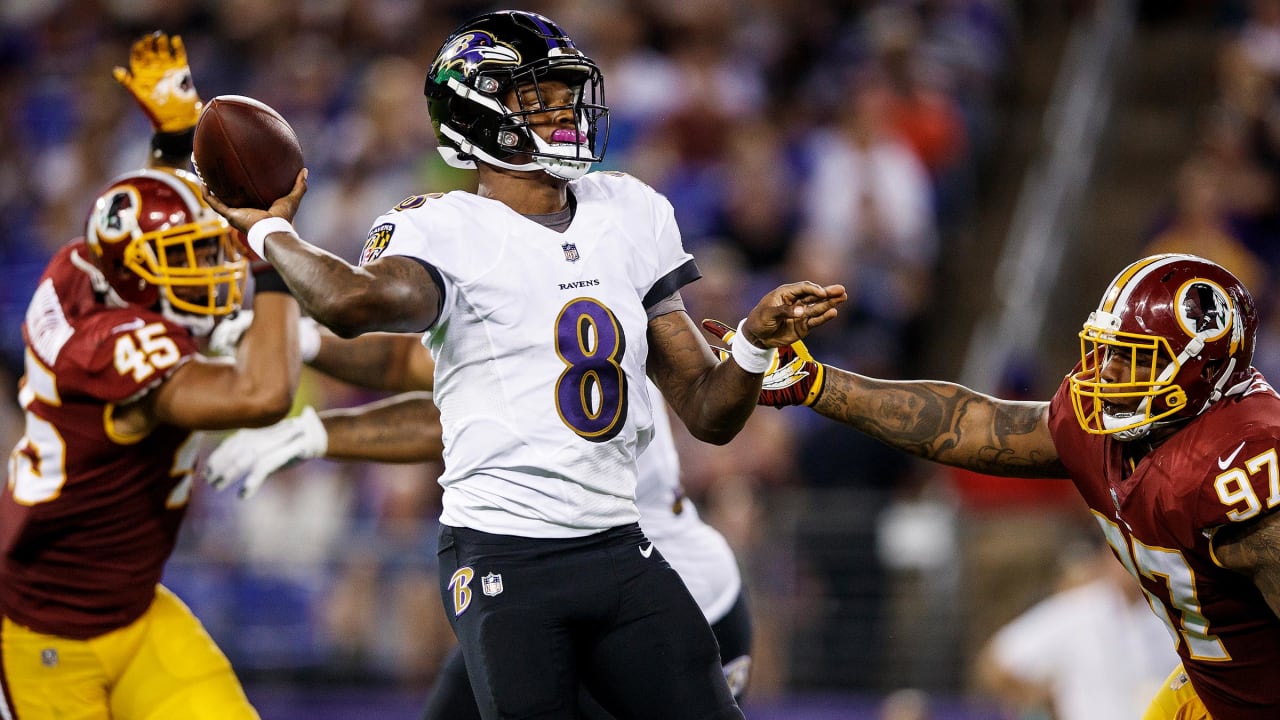 If Earl Thomas thinks he had a rough off-season, maybe he needs to have a conversation with Dan Snyder.
This is a team nearly devoid of talent, with exactly.. *checks notes* ..one player of any real note. Also, that player hasn't taken a snap in the NFL at the time of this writing.
Nothing about this team should scare the Ravens, and as such, Baltimore steamrolls them easily.
Record 3-1
For awhile there, the Bengals were trying their best to make football fans think that they were good. Unfortunately, nobody really bought it, and they fell back into irrelevance.
They arrive in 2020 improved in more areas than I care to admit, but their offensive line is still an area of a concern.
In Week 5, that offensive line will have to face Calais Campbell, Derek Wolfe, Brandon Williams, and Matt Judon.. while protecting a rookie quarterback who has likely had his bell rung a few times by this point. Burrow's completion percentage dropped more than 12% when pressured in 2019, so expect Wink to send the Twin Towers barreling through that makeshift offensive line.
The Ravens move to 2-0 in the division, and start giving fans hope for a 15-1 season.
Record 4-1
I have an irrational hatred for the Eagles, one that has burned long before I met my Giants fan of a fiance.
In 2020, the Eagles defense doesn't appear to match up well against the Ravens offense, and the Ravens defense is a perfect match for the Eagles offense.
The Eagles will make it interesting somehow, but in the end, the Ravens emerge victorious.
Record: 5-1
This is automatically one of the best games on the schedule, just due to the long-standing rivalry between these two teams. While it has settled down in recent years, it has the potential to burn bright once again, with emerging superstars on both teams.
Big Ben has a shoulder that is about to fall out of its socket. Juju Smith-Schuster has shown himself to not be a No. 1 wide receiver. James Conner doesn't know the meaning of staying healthy. And Chase Claypool is the Steelers' version of Miles Boykin, but with less raw talent.
The other side of that is that the Steelers defense is heavily underrated. Combine that with it being the one true rivalry in the division (outside of the Browns and winning seasons) and these games are always a coin flip.
The Ravens defend their house, though, on the leg of Justin Tucker.
Record: 6-1
Week 8: Bye Week
Time to let the nicks and cuts heal. The Ravens enjoy a bye week after a hard-fought battle against a division rival.
The Ravens roll into Indianapolis feeling really good about themselves with a 6-1 record and holding the top spot in the AFC.
Here's the thing, though. Feeling good about yourself can lead to overconfidence. Overconfidence can lead to dropped games.
That's exactly what happens here, as 80-year-old Phillip Rivers finds a connection late with should-have-been-a-Ravens-rookie Michael Pittman, Jr. for the game-winning score.
Record 6-2
Bill Belichick doesn't have Tom Brady under his control anymore, and half of his starting defense opted out before the season started, so Patriots fans are feeling a regression at this point in the season.
Cam Newton has reverted from SuperCam to the Incredible Sulk, N'Keal Harry hasn't really found his footing, and the 43 running backs on the roster can't get anything going against Campbell and Co.
Lamar Jackson moves to 2-0 against the out-of-division rivals.
Record: 7-2
This game is likely circled on the calendar of every Ravens player that was a part of that unfortunate playoff game after their darling 2019 season.
Ryan Tannehill doesn't scare you. Corey Davis and Jonnu Smith don't scare you. Even new OLB Jadeveon Clowney doesn't really scare you – let's face it, he's going against either Ronnie Stanley or Orlando Brown, Jr.
Derrick Henry is a force. This time, however, he won't be able to run all over the Ravens defense, thanks to the law offices of Campbell, Wolfe, and Queen.
All that's left is to contain A.J. Brown.
*looks at Marlon Humphrey*
Checkmate?
Record: 8-2
Week 12: At Pittsburgh Steelers
Circle this one on your calendars, folks. Thanksgiving is going to be bloody.
Remember that iconic picture of Jacoby Jones tearing into a turkey leg after the Ravens handed the Steelers a holiday 'hold this L'? The Ravens haven't played on Thanksgiving since, and they'll be hungry (get it?) to notch another primetime victory, especially against their hated rival.
Unfortunately, the Steelers protect their house in a hard-fought defensive battle, and the Ravens go back home not comforted by full bellies.
Record: 8-3
December football is here, ladies and gentlemen, and the Ravens have always* done well in December.
This is actually an interesting matchup, as it speaks to the Ravens defense against the Cowboys offense. Dak Prescott is good-not-great, though underrated by many. The Ravens secondary is going to have their hands full with the trio of Amari Cooper, Michael Gallup, and CeeDee Lamb.
But the Ravens offense is going to have a blast with the Cowboys secondary. Their best defensive back might be a rookie, and their second-best might be a 35-year-old Brandon Carr.
Pencil this in as Devin Duvernay's breakout game.
Record: 9-3
*Under John Harbaugh
Week 14: At Cleveland Browns
And so begins what might be the easiest final stretch of any year in Ravens history.
The Ravens travel to Cleveland to face a Browns team that is likely facing the distinct possibility of yet another losing season. This makes for a desperate team. After all of the preseason hype, albeit a lot more people being unsure of them, they've dropped the ball again. They're angry, hurt, and fighting.
Expect Nick Chubb and Kareem Hunt to have a day but ultimately the Ravens sneak one out.
Record: 10-3 (Playoffs clinched!)
Gone are the days where the Jaguars could steamroll the Ravens.
Gone are the days where Jacksonville had a formidable defense.
Welcome to a taste of your own medicine, Jaguars fans. The Ravens absolutely mutilate the worst team in Florida, and people start calling out for the mercy rule.
Gardner Minshew gets pulled late, and Lamar Jackson gets the same treatment for a different reason. Oh, yeah.. and the Ravens win the division for a third year in a row.
Record: 11-3
This might be the game I'm looking forward to the least.
Big Blue has a big presence in my house, with the wife-to-be bleeding blue. She has it stuck in her head that the Ravens are going to go 15-1, with the only loss being to her Giants.
Daniel Jones has impressed in Year Two. Saquon Barkley has gotten back to form. The secondary is improved, with James Bradberry and Logan Ryan leading the charge.
However, it isn't enough.
The Ravens emerge victorious in a score similar to their first Super Bowl victory, and the Giants are sent back to New Jersey one win away from a .500 record.
Record: 12-3
Week 17: At Cincinnati Bengals
After clinching the playoffs, and the division, you'd halfway expect the Ravens to rest the starters in preparation for the postseason.
However, don't forget – there is only one bye for each conference now, and the Chiefs are deadlocked with Baltimore for the rights to that bye.
At this point, the Ravens need to beat the Bengals, and need the Chiefs to lose to the Chargers.
They'll get one half of that dream, trouncing the Bengals late in the season.
Record: 13-3, AFC North Champions, No. 2 seed (AFC).
Postseason
I'm not going to put bad vibes in the air, regarding Jackson's playoff record. I'm also not going to make any predictions about a Super Bowl run.
I'll just leave you with this thought:
In Y1, Patrick Mahomes took over for his incumbent starter and ignited the excitement of fans.
In Y2, Patrick Mahomes won MVP, and received the Madden cover.
In Y3, Patrick Mahomes won the Super Bowl.
In Y1, Lamar Jackson took over for his incumbent starter and ignited the excitement of fans.
In Y2, Lamar Jackson won MVP, and received the Madden cover.
In Y3, Lamar Jackson…..?
Fin
In closing, the Ravens close the regular season with one less win than they had in 2019, but a somehow more impressive season.
At the end of the season, they'll have to find ways to start paying their star players (starting with Ronnie Stanley), which usually means that the Super Bowl window is closing.
Baltimore, treat your superstars like I treated Kelly.
Put a heckin' ring on it.